"Prescription for Excellent Credit."
Credit Sweeps, Inquiry Removals, & Tradeline Packages
We have created the FASTEST CREDIT REPAIR program on the planet... the "CREDIT SWEEP. "
After consulting with attorneys, Credit Repair professionals, collection agencies, even current and former credit bureau EMPLOYEES, our credit sweep program has taken the industry by storm...
Our Credit Sweep System Works Like This...
IT'S FAST: What takes other companies 9 - 14 months, takes us ONLY 45 days for the first round of results.
WE ARE CERTIFIED: Our team is certified to remove any negative items on your credit report (i.e. collections, medical bills, bankruptcy, judgment, liens, late payments, & more.)
NEGATIVE ITEM REMOVAL: We work on ALL THREE credit bureaus, not just one.
RESULTS: You may start receiving mail from the credit bureaus during the process. Forward that to use so we can proceed quickly.
PERMANENT REMOVAL: Negative items DO NOT return.
RESTORATION: Exclusive credit boosting tips are provided so you can BOOST YOUR POSITIVE CREDIT while we work on your negative credit.
LIVE: Log in 24/7 Real time PROGRESS tracking.
ACCESSIBLE: Contact us ANYTIME via phone, email, or text during business hours.
Why Does Excellent Credit Count?
When you have a low/sub prime credit score (anything under 619), it feels like the whole financial world is against you and life becomes more difficult and expensive. Millions of Americans need to build up and sweep their credit in order to qualify for a home loan, lease an apartment, obtain a car loan, to get a credit card, get a cell phone, and even applying for certain jobs. Your credit score even impacts the rates you pay for auto and homeowners insurance.
By restoring and building your credit with a credit sweep and tradelines, you can save thousands of dollars in lower interest on payments and much more. We can help you to remove inaccurate information from your credit report as well as enhance your credit with tradelines molded to your outcome.
Credit bureaus keep information on your record up to 10 years, so problematic credit history can follow you around for a LONG time. You came to the right place to skyrocket your consumer buying power!
Every credit report is different so we work each one case by case to optimize for the best possible results
What is a Credit Sweep?
A proprietary process for removing negative items from your credit report, opening up more possibilities for your financial future. We do this extremely fast in comparison to traditional credit repair. We perform the work with modern strategies to accommodate the ever changing industry. Deletions start occurring within the first 45 days. For most clients, the best results happen within the first 60 – 90 days.
Are Credit Sweeps Effective?
ABSOLUTELY! This is highly effective for a credit score after a collection, delinquency, bankruptcy, divorce, Identity theft, judgement, late payment, or foreclosure. We work on all of these.
79% of all credit reports contain errors! This means that most credit reports can be improved instantly. We work on correcting inaccurate and misleading personal data on your credit report. Also inaccurate and unverifiable credit and collection information must be complete, accurate and verifiable otherwise you have the right to dispute the account.
What is the difference between a Credit Sweep and Credit Repair?
The main difference is the time frame, fee schedule and process. Our credit sweep is proprietary, and extremely expedited in comparison to traditional credit repair. Deletions can start occurring within the first 45 – 90 days. Traditional Traditional credit repair takes 6 – 14 months while incurring a monthly fee, and results are dragged out throughout that time frame. Expect a couple deletions (if you are lucky). Credit repair is a likely waste of 6 – 14 months of your time, money and energy. We DO NOT charge monthly fees!
Are Credit Sweeps Legal?
A credit sweep is a form of credit repair which is 100% legal and it works because of the law. The Fair Credit Reporting Act (FCRA) gives you the right to dispute any item on your credit report. If an item cannot be verified, it must be removed. This is the basis of all credit repair.
The FCRA is a U.S. Government legislation enacted to promote the accuracy, fairness and privacy of consumer information contained in the files of consumer reporting agencies. It is intended to protect consumers from willful and or negligent inclusion of inaccurate information on their credit reports.
Is Credit Inquiry Removal Included In The Credit Sweep?
No, this is a completely separate service as it requires a completely different method. Do you need to remove pesky credit inquiries? If you have too many, you will get DENIED more frequently which will hold you back from getting the things you want in your life.
We can remove certain pesky inquiries (up to 100 credit inquiries across all three credit bureaus). We have a phenomenal bundle discount if you purchase inquiry removal with your credit sweep.
How Long Does It Take?
Every credit report is different. If additional rounds are needed, it will be an additional 30 days for each round. Note that you will continue seeing improvement throughout this entire process given you follow our guidance to maintain your results and empower a lifetime of good credit decisions.
How Much Does It Cost?
We have made it AFFORDABLE to everyone. Give us a call to see which plan will work best for you given your goals and outcome.
What Is Your Refund Policy?
If we do not produce results, then we have no business accepting your money. We guarantee you will have deletions otherwise we will refund your money.
DISCLAIMER: If you have a new derogatory account, run up your credit card balances over 30%, miss a payment, and/or have multiple new credit inquiries, we can see this and it will cause a reduction in your credit score, ultimately undoing all of the progress we made. Don't do that to yourself!
Inquiry Removal
Do you have PESKY CREDIT INQUIRIES?
If you have too many, you will get DENIED more frequently which will hold you back from the things you want to get in your life.
We remove certain pesky credit inquiries that are ruining your credit score so YOU CAN START GETTING APPROVALS AGAIN!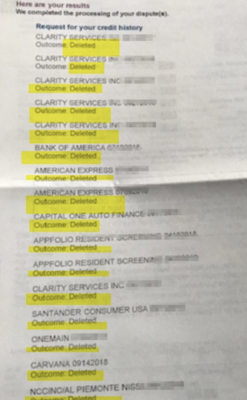 INSTANTANEOUSLY RAISE YOUR CREDIT SCORE WITH INQUIRY REMOVAL.
10% of your score is determined based on your credit inquiries so if your number of inquiries is decreased, then bam! Your credit score will increase automatically.
We can remove up to 100 credit inquiries across all three credit bureaus. Typically it takes 30 - 45 days for the first round of results. Some client's may take additional time if additional rounds are needed. This is on a case by case scenario.
See before and afters below.
Age Progressional Tradeline Packages
Powerful Packages to Boost Your Credit Score Fast. Bundled So You Save Even More Money. Customized to Fit Your Outcome.
How Do Our Tradeline Packages Work?
All of our packages are truly unique and powerful because they are custom built using the proprietary "Age Progressional" method. It's a hand selected package of tradelines prescribed to offset the weaknesses in your credit score, which in turn, increases your credit score. The oldest tradeline is a lower credit limit, and the newer tradelines are higher credit limits. This is to show that your credit has gotten better over time. Age Progressional Tradeline Package lines are selected from the same cardholder, or two cardholders max, to ensure the addresses are kept to a minimum. This also ensures easy, breezy posting to your credit report.
Tradeline Size Legend
Small = Opened under 1 year ago
Medium = Opened 1 year to 3 years ago
Large = Opened 3 to 9 years ago
XL = Opened 9.1 to 20 years ago
Credit limits will vary as we have many high limit credit cards.
We can't wait to hear from you! What can we get you more information on? What are your goals? How can we help you?